Lighthouse Troubleshooting Guide
Please follow below troubleshooting guide if you face any of the listed issues while running the lilghthouse.
A. JWT Token authorization Error
If below command returns "failed JWT authorization erro: Invalid Token", then follow these steps to fix it.
sudo journalctl -f -u lighthousebeacon.service -o cat | ccze -A

Stop lighthousebeacon by running-
sudo systemctl stop lighthousebeacon

Now, start it again by running
sudo systemctl start lighthousebeacon

Again check with above journalctl command and the error should be fixed now.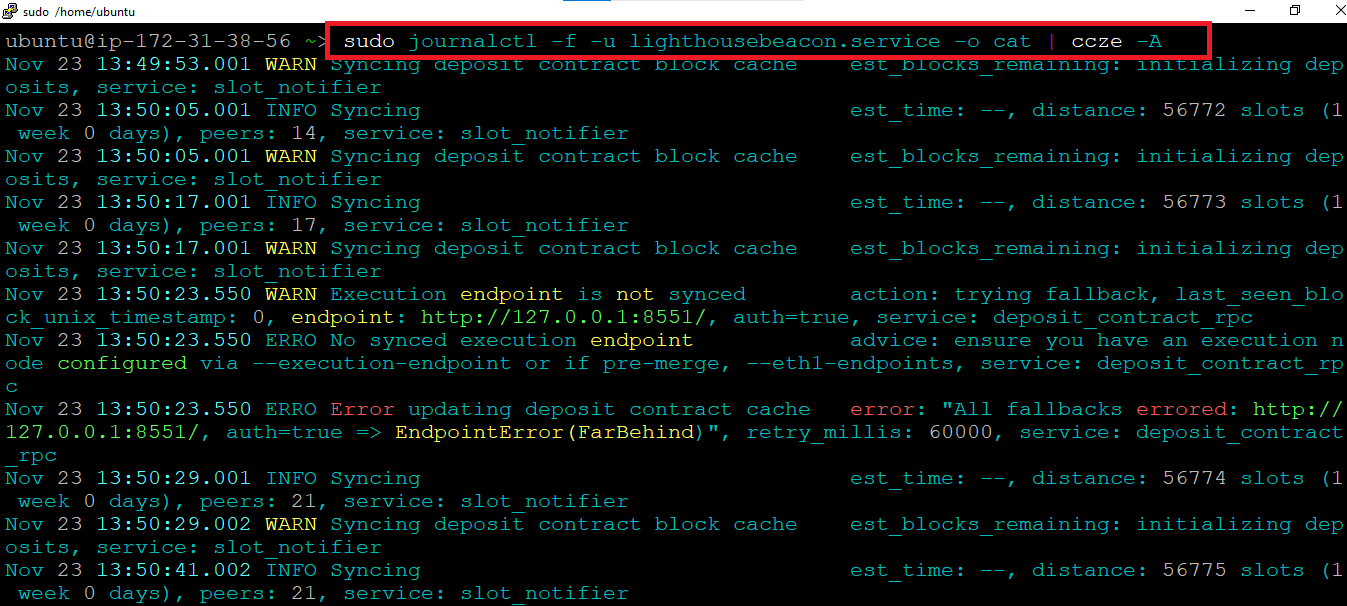 B. Lighthouse Connection Refused Error
If you get Connection refused error after running the journalctl command as shown in the screenshot below then follow these steps-

This error indicates that geth process is not running. Check the status of geth command by running
ps -ef | grep geth
Note: If sync is in progress , you will see the below highlighted process running.

If sync process is not running, then restart it by running-
Note: Make sure below command is executed from terminal inside Remote desktop GUI to avoid process termination.
sudo nohup geth --http --http.addr "0.0.0.0" --http.port "8545" --http.corsdomain "*" --config /home/ubuntu/ethereum/eth_config.toml >> /var/log/cloud-init-output.log 2>&1 &

Now check the sync process again by running-
ps -ef | grep geth
This time journalctl command should return the sync status-